In this episode of the Religion Beat Radio Hour, co-producers Christopher Cornthwaite and Judith Ellen Brunton are joined by Khalidah Ali in a three-part discussion: the theme of suffering in John Green's best-selling novel, Ali's own Religion Beat article about the shape of liberal critique in today's popular discourse on Islam, and racism and Islamophobia in American politics.
John Green and the Religious Dimensions of Suffering (1:00-16:45)
In a Huffington Post interview conducted by Nancy Redd and written about by Emily Tess Katz, John Green discusses his experiences working as a student chaplain at a children's hospital before deciding against pursuing his theological studies. This intriguing cultural moment prompted us to ask questions regarding when and why religion breaks into popular culture discussions.
What We Read:
Redd's interview of John Green as discussed in this article
---
Islamophobia, Racism, and Critique (16:45-36:40)
In this segment we hear Khalidah Ali speak about her article "Bill Maher and Sam Harris: Racism, Critique, Theology and Islamophobia,"which was recently published on Religion Beat. In our discussion, Khalidah leads us through examining critique, Islamophobia, and racism in the now viral video of Bill Maher's show Real Time with Bill Maher.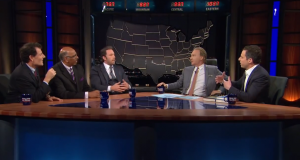 What We Read:
Khalidah Ali's Religion Beat article
---

Polling, the President and More Islamophobia (36:40 – End)
Continuing with our previous discussion, and after reading Sarah Posner's Why Republicans don't think Obama is a Christian, we discuss the political dimensions of Islamophobia and racism, in addition to thinking through the role public opinion and polling play in this discussion.
What We Read:
---