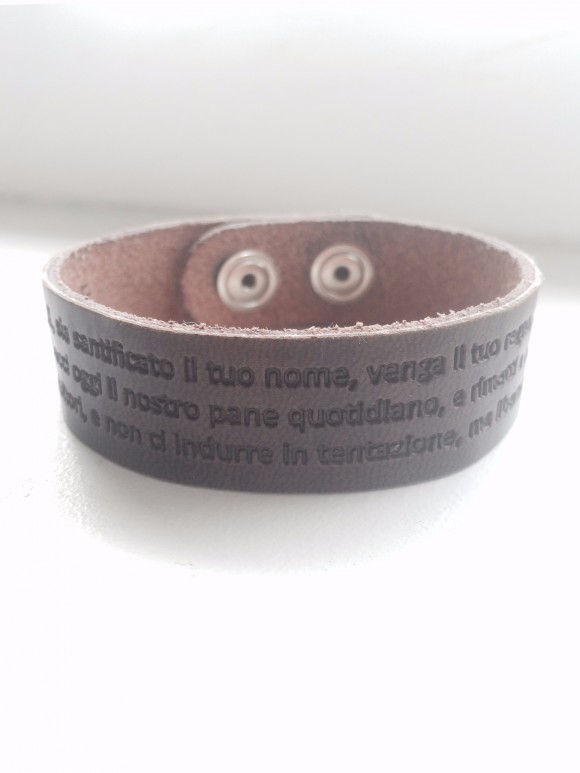 This is a leather bracelet on which is engraved the Our Father prayer, in Italian. It is less than an inch wide, very smooth on the outside but a little rough on the inside; sometimes it hurts my skin when I wear it for too long. I photographed it in my room at Quest University Canada, British Columbia. I bought this bracelet at the airport, one time I was traveling alone to Vancouver from my parents' home in Italy. I was sad and worried about leaving to go back to university, but when I saw the bracelet and put it on, I felt reassured. I felt that, by wearing the bracelet, I could carry this prayer with me, and remind myself that these words have always accompanied me in my spiritual journey. Ever since then, I wear this bracelet every time I leave the house, and especially when I am going to meet other people. I believe that it guides my intentions, that it gives me spiritual strength, and that it grounds my actions in a desire for service. Every time I get upset, I look at it and murmur the prayer to myself. My favorite thing about this bracelet is that most people do not realize that it is a "Christian" or "religious" object at all, because they cannot read what is written on it. This means that, although I carry a tangible sign of my religion anywhere I go, my faith is at the same time completely private. Like the Spirit, who is invisible and yet always present, so is the faith that underlies my living in the world.
---
Contributor Biography: Valeria Vergani
I am Valeria Vergani, a student of religious studies and cultural anthropology at Quest University Canada in Squamish, BC. I was born and raised in Verona, Italy. I am passionate about religion and its complexities. My studies revolve around the relationship between higher education and secularism in the Buddhist kingdom of Bhutan, where I spent the spring of 2015.